WE OFFER ECHOLOGIC FOOD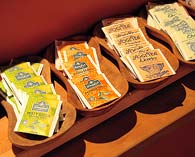 We use echological food and drinks, and can offer a .
Our goal is to use mostly echological
food in all of our recipes. Debio have approved Pygmalion. This obligates us to inform our guests about what echological raw material we use. There's a list at the cafè with a survey.